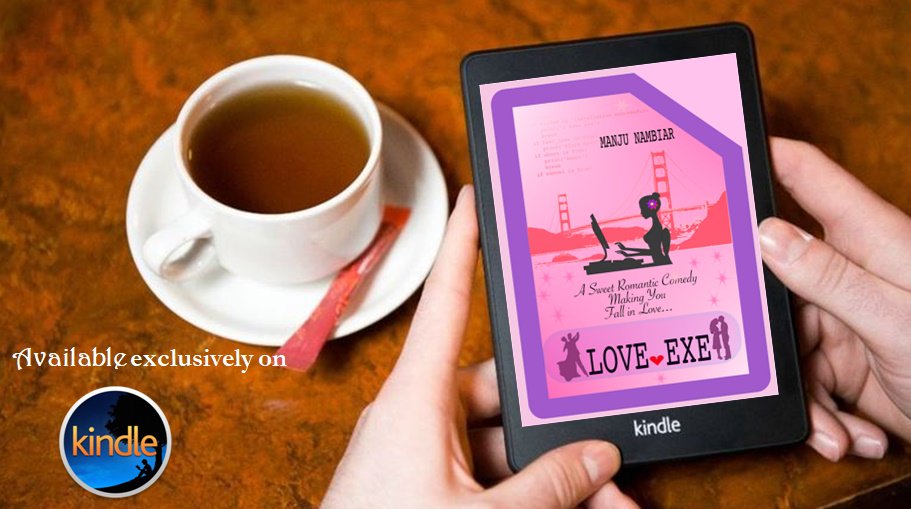 Title- Love.exe
Author- Manju Nambiar
Version- Ebook
RATINGS-
Cover- 4/5
Blurb- 4/5
Writing Style- 3.5/5
Overall- 3.7/5
BLURB–
If you are looking for a feel-good heartwarming love story with a happy ending, this is your right pick!
Nitya Balakrishnan, a young girl from Kerala had it all planned out. She was going to live a life of her dreams in the United States of America. And she thought she had nailed it when she was accepted into one of the best universities of the world. But cosmos had other plans and conspired to drop love.exe into her.

He came with a bang and stole her away in a breath. Love was not quite there in her agenda, but her heart wouldn't hear of it. The human heart has its own little brain with its strange logic that remains elusive to our reasoning. For once, she just let it be, only to realize that there is no undo button.

This coming of age, beautiful tale of love, relationships and dreams would prick your soul, bring a smile to you, and tear up your eyes. A must read! 
REVIEW- 
The story revolves around Nitya Balakrishnan; the protagonist. A bright student throughput her studies bags admission to Stanford University, California. Coming from a reserved family, it becomes hard for her to convince her parents to allow her to study abroad. However, they agree on a barter system. She will be getting married before she leaves for the US. Ganapathy; the guy that was finalized for Nitya. However, things didn't get well along and she called off her marriage.
After moving to the US, Nitya's life changes completely. Simple story expressed beautifully with lively writing style makes it a good read. Halfway through the story, there were events which were quite predictable but the author did take hold of emotions and dialogue delivery very well which made it engrossing. Despite being the predictable events, the balance between emotions and humor was very well maintained. Overall, a good light-hearted read.